September 16th, 2017 Saturday early morning (super early), I woke up (with bad stomach) at 4:00 AM, got ready and left home to catch a flight (Pune- – Banglore) at 7:20 AM. I reached Bangalore at around 9:00 AM and called a cab to reach directly to our Fedora Woman Day venue i.e. Christ University. I thought I will reach there very soon, but thanks to Bangalore traffic, it took me 2 hours to reach to the venue.
I met girls student volunteers (Antara, Debanjana and Shambhavi) there at the entrance of the college. It is a really BIG university with many buildings in it.  I was happy to see a decent number of girl students in the room, where the event has organized. Thanks to Sumantro Mukherjee  , Vipul Siddharth  and Prakash Mishra for involving girls volunteers and for doing all the per-event arrangements. Vipul quickly introduced me with Smita Madam (Faculty at university), who was the college in-charge for this event. There was a joke cracked by Vipul something about "Amita-Smita" which I don't remember now, afair people laughed at it.
Volunteers introduced me and other speakers to the students. There was approx. 100 students, 70% were girls there. I started the event with my talk about "What is Fedora", "Why one should get involved", "Why Women are important" and "How one can get involved". I showed students our fantastic site – http://whatcanidoforfedora.org . After finishing my talk, I invited students on stage to speak about how they feel and how we can help them. As usual, they were shy and I have to motivate them to open up. Here are the videos, where you can see them speaking about their point of view.  After me, It was Kanika Murarka , who took the stage and engage students with her Fedora design talk. It was a nice talk with all the work listed which design team does like badges, web pages, art work and more. Thanks to Kanika for taking her time out on a Saturday to come and join us for FWD.
Now a pretty new face came on stage to talk about Machine learning, data science and python pandas – Sarah Masud , I did not miss even a single word of her talk. Even students looked mesmerized, this young girl was demonstrating data, statistics and python pandas in such an interesting way. I was really impressed and thanked her after her talk.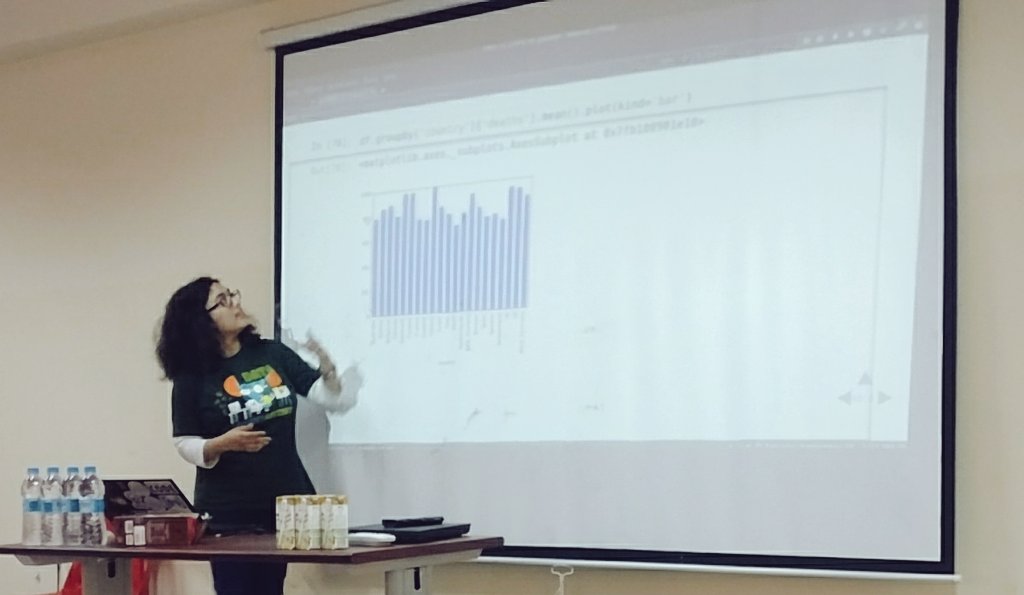 On public demand, we had to rescheduled Sumnatro's and Vipul's session. As the audience was very interested to join these pending sessions too and they had some classes clash at the same time. I took the stage again to summarize and to conclude the event. I showed them FWD Jacket print and told them this is done by one of the Fedora design team member and how they can also be the part. I also asked them to send their introduction mail and don't be shy about it. Just share their interest area and there will be people to guide them.
By this time(around 3 PM), I was feeling hungry and asked Vipul if we can go to college canteen to eat. While leaving, there was bunch of girls who came to talk to me. Some of them was interested in writing and few of them said they want to contribute in design. One girl asked me very innocently "Mam, so if we do some work like if I want to write about this event and send the writeup to Fedora Magazine (ofcourse, I mentioned about magazine during my talk), there will be public reviews? " I could sense some kind of uncomfortable and shyness there. I told her that yes there will be but that is to guide you and to make write-up better. But, somewhere deep inside, I felt, there must be some other way to deal with such situations, where the new person (wanna be contributor) wants to start something and really shy to share her/his work and hesitant about open/public reviews. I would like to discuss about this point a little more with diversity team later.
College faculty (Saleema JS and Smita Vinod) thanked us and gave speakers token of appreciation. I am really  thankful to them for hosting this event at University.
Ah, I was tired, hungry and sleepy by now. We went to canteen with some students and speakers. We had food there, we chat about the event and students were asking about me, when will be the next one with some hands-on sessions. Sumantro was also asking about FWD stickers. So, we had a deal. Sumantro will conduct another session in college and I will ship FWD stickers to him, hehe. Let's see if we can keep up with our deal hopefully. I had around 45 mins before, I can leave for airport. Red Hat office was 10 mins walk away and we (me, Sumantro and Kanika) went to Red Hat Banglore office. After some time Kanika booked a cab for me (as my phone's internet was not working properly) and I left the city at around 5:30 PM and reached airport just in time (city traffic!!).
There was a smile of satisfaction on my face, some good pictures in my phone, some thoughts about new generation and how we can help them and a hope to come back again some fine day. With all these take away, I reached Pune airport at 10:30 PM. An unexpected surprise was waiting for me, my husband and my daughter both came to receive me at airport 🙂 . After a really long day, it is always refreshing to see your family.
Looking forward to other two FWD events coming up in India now.